This memorial website was created in the memory of our loved one, Renato Capozzo who was born in Connecticut on November 17, 1973 and passed away on June 24, 2006 at the age of 32. We will remember him forever.



If anyone has any pictures or video of Ronny please contact me.
Renato (Ronny) Capozzo, 32 years old of East Haven, CT entered into his rest peacefully on Saturday, June 24th, 2006 in a Georgia Hospital. Ronny is the beloved son of Giuseppe and Lidia (Melillo) Capozzo of East Haven and loving father to his two children, Claudia and Joey. He is the loving brother of Francine (Vinny) Piscitelli of North Haven, Anthony (Amy) Capozzo of East Haven, Pat (Marie) Capozzo of East Haven and loving Fiancee of Melissa Zuppardi and her daughter Gabriella Zuppardi. He is the loving Uncle of Marie-Lynn, Nicholas, and Kayla, Sabrina and T.J., and Haley and Michael. Renato, so deeply loved everyone. Throughout his life he had great passion and natural abilities in all sports. At East Haven High School he led his football team as Quarterback. He was named to the All-State Baseball Team. He loved the game of golf and was a member of the Four Horsemen Bowling Team in East Haven. Ronny was most recently a Professional Jai-Alai player. He was employed by Hamilton-Downs Jai-Alai in Florida. He played preiously for Milford Jai-Alai and Newport, Rhode Island Jai-Alai.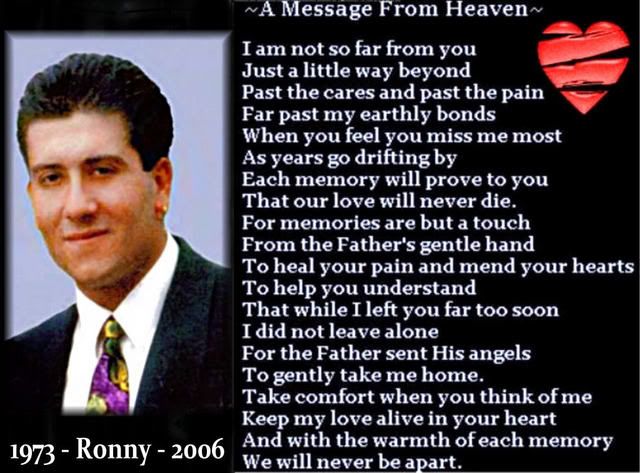 Safely Home

I am home in Heaven, dear ones;
Oh, so happy and so bright!
There is perfect joy and beauty
In this everlasting light.

All the pain and grief is over,
Every restless tossing passed;
I am now at peace forever,
Safely home in Heaven at last.

Did you wonder I so calmly
Trod the valley of the shade?
Oh! but Jesus' love illumined
Every dark and fearful glade.

And He came Himself to meet me
In that way so hard to tread;
And with Jesus' arm to lean on,
Could I have one doubt or dread?

Then you must not grieve so sorely,
For I love you dearly still;
Try to look beyond earth's shadows,
Pray to trust our Father's Will.

There is work still waiting for you,
So you must not idly stand;
Do it now, while life remaineth-
You shall rest in Jesus' land.

When that work is all completed,
He will gently call you home;
Oh, the rapture of that meeting,
Oh, the joy to see you come!


Priests of the Sacred Heart
Sacred Heart Monastary



2 Corinthians 5:1
FOR we know that if our earthly house, this tent, is destroyed, we have a building from God, a house not made with hands, eternal in the heavens.
For in this we groan, earnestly desiring to be clothed with our habitation which is from heaven, if indeed, having been clothed, we shall not be found naked.
For we who are in this tent groan, being burdened, not because we want to be unclothed, but further clothed, that mortality may be swallowed up by life.
Now He who has prepared us for this very thing is God, who also has given us the Spirit as a guarantee
So we are always confident, knowing that while we are at home in the body we are absent from the Lord. For we walk by faith, not by sight.
We are confident, yes, well pleased rather to be absent from the body and to be present with the Lord.